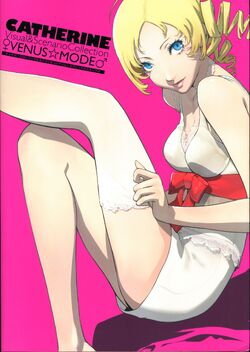 ASCII Media Works released a 160-page A4-size art and scenario book for Catherine, containing all the dialogues and endings to the game. This includes unreleased character and concept art, as well as artwork already in the game and website, such as images Catherine sends you through her cell phone, or promo art of her.
The book is divided into five chapters:
CHAPTER I: Visual
CHAPTER II: Theatre
CHAPTER III: Cast
CHAPTER IV: Nightmare
CHAPTER V: Concept
It was released in Japan on August 10, 2011 for the suggested retail price of ¥2,520.
Ad blocker interference detected!
Wikia is a free-to-use site that makes money from advertising. We have a modified experience for viewers using ad blockers

Wikia is not accessible if you've made further modifications. Remove the custom ad blocker rule(s) and the page will load as expected.