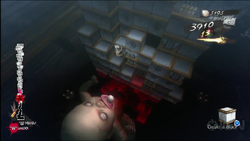 "Don't leave me, daddy!"
The Child is the final boss of the fourth stage, Inquisition, and is the third boss of the game. It takes the form of an undead baby with a pacifier in its mouth.
Introduction
Edit
Vincent enters the door, unaware of what awaits him. Gibberish and a shriek of "Daddy!" pierces his ears, alarming him and causing Vincent to dash up. This begins the final boss of the Inquisition.
Walkthrough
Edit
See: Inquisition 4-2
Abilities
Edit
The Child has two attacks. When Vincent is close by, it will slap him. If it hits, it will kill him instantly; otherwise it will knock him down and stun him briefly. When Vincent is higher up, the Child will slap the tower repeatedly, sending a shockwave up one column of blocks. If Vincent is on one of these blocks he will be knocked off, potentially to his death.
Strategies
Edit
The camera zooms out before the Child begins its ranged attack; use that time to make sure you have a clear escape route left or right. Once you know where the shockwave is coming up, get out of the way quickly.
The baby itself represents Vincent's fear of having a child, which is raised when Katherine tells him the day before that she might be pregnant. The undead appearance is a design choice to make the the Child appear more menacing and creepy: to Vincent, this Child exists to destroy his freedom and life, chaining him to something he isn't ready for yet.
Opening Line
Edit
"Dah...Daaaaaadddyyyy! Daddy."
Battle Lines
Edit
(googley sounds)
"Wah!"
"Bah bah bah bah bah bah bah bah bah!"
"Dah dah DAH!"
"Daaaaaaaaaddddddddddyyyyyy!"
"Daddy! Where are you?!"
(giggling laughter)
"Don't leave me! Da-daddy!"
"Wait for me!"
"Daddy! Carry me!"
"Why are you wunning away!?"
"Look at me!"
"Do you want what you're doing?"
Ending Line
Edit
"Daaaaadddddyyyyy! Daddy... Daahh...Daaaaddddyyy!"
If you listen closely to the baby, it sounds like Laura Bailey, Catherine's voice actress.
Before being repelled at the end, the Child's eyes glow bright red.
The Child gets repelled by the light, returning to the darkness and manifests into something else, which is Child with a Chainsaw at 6-4.
Ad blocker interference detected!
Wikia is a free-to-use site that makes money from advertising. We have a modified experience for viewers using ad blockers

Wikia is not accessible if you've made further modifications. Remove the custom ad blocker rule(s) and the page will load as expected.