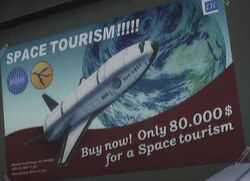 "SPACE TOURISM!!!!!"
"Buy Now! Only 80.000 $ for a Space tourism"

This is a program that allows average citizens to tour space for a fee. Where it tours and travels and for how long is unknown.
A space tourism poster taped to the wall of Vincent's Apartment, introduced on Day 1, 8:10 AM. This is one of the objects Vincent focuses on after waking from his first nightmare, The Underground Cemetery.
On Day 4 at the Stray Sheep, The Couple discuss the space tour and how the entry fee has been lowered to $50,000 instead of $80,000. She suggests they go, which the boyfriend quickly dismisses, suggesting they spend the money on a house, or a car, or steaks...
During the Freedom Good Ending and the Freedom True Ending, Vincent tries to extort Boss for a loan, saying he has to invest in himself. The loan is $50,000 and he wishes to put it towards a down payment on the shuttle that will be leaving soon.
Significant plot details end here.
Ad blocker interference detected!
Wikia is a free-to-use site that makes money from advertising. We have a modified experience for viewers using ad blockers

Wikia is not accessible if you've made further modifications. Remove the custom ad blocker rule(s) and the page will load as expected.