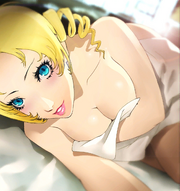 From: Catherine
Subject: Show & Tell!!! ♥♥
Hi Vincent!♡

I'm sending you a special picture!♥ Try not to act surprised if you're opening it at work or something. Just thinking of your reaction when you see this is making me laugh!
Ad blocker interference detected!
Wikia is a free-to-use site that makes money from advertising. We have a modified experience for viewers using ad blockers

Wikia is not accessible if you've made further modifications. Remove the custom ad blocker rule(s) and the page will load as expected.