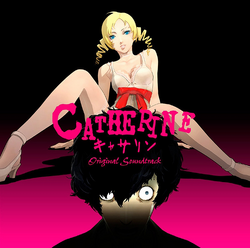 The Catherine Original Soundtrack is the soundtrack of Catherine and consists of 34 tracks, and is composed by Shoji Meguro, best known for his work in the Shin Megami Tensei series; specifically, Persona.
This soundtrack doesn't contain all the game's music. The Catherine Sound Disc contains missing songs.
Tracklist
Edit
YO
It's a Golden Show
Roux
George Washington (or Jouji Washington)
Also Sprach Brooks
Stray Sheep
Fear
Pandemonium
Non Title
at more choice
Result
Good Morning, New Day
R30's Melancholy
Hitsujigamine (Sheep on the Mountain's Peak)
Ant
Stalked In The Dark
Loser's Future
Woman's Hand
Zigeunerweisen Sarasate
Lamb Game between Male and Female
Tension
Door
Oracle
Lost
Awakening
Act on Instinct
Departure
An Die Freude
Battle on Stage
Up Up Up!
Stage
Rapunzel -Game Play-
Rapunzel -Name Entry-
Rapunzel -Game Over-
情事ワシントン (Track 4) contains a pun. The 情事 is pronounced 'Jouji' (which is the Japanese transliteration of George) and is the Japanese word for 'affair'.
External links
Edit
Ad blocker interference detected!
Wikia is a free-to-use site that makes money from advertising. We have a modified experience for viewers using ad blockers

Wikia is not accessible if you've made further modifications. Remove the custom ad blocker rule(s) and the page will load as expected.