Catherine: Full Body
Developer
Atlus (Studio Zero)
Publishers
Atlus (JP)
Release dates
Winter 2018 (Japan)
TBA (Western countries)
Platforms
PlayStation 4, PlayStation Vita
Catherine: Full Body is a remake/enhanced port of the 2011 Catherine video game. Full Body will be developed and published by Atlus' Studio Zero Team for PlayStation 4 and PlayStation Vita.
The reason the developers chose the subtitle Full Body is due to its relation to full-bodied wine. Full Body is Catherine with more content (or depth), like a full-bodied wine. It also sounded more erotic, possibly implying the developers are going to increase the eroticness of the game.
Atlus confirmed the game will be localized into English and come to the West.[1]
Changes from original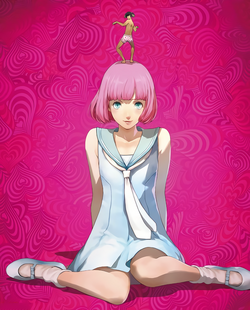 There is now a third girl named Rin who is the pianist at the Stray Sheep. Rin's involvement in the story will cause a split between Catherine and Katherine.
There will be new sexy events, episodes and animated cutscenes to further develop the characters of Catherine, Katherine and Rin. There will be new endings for Rin and additional endings for both Catherine and Katherine
A wide level of difficulty options is also available, alongside other adjustments. There are also new gimmicks and modes such as being able to link together a wide variety of blocks. There is also 'Original Mode' enabling the option to play the unaltered stages from the first version of game.
Other details
The game will feature online support and the ability to cross-save between PS4 and Vita.
Catherine: Full Body will have an online battle mode, inspired by the competitive scene overseas. Atlus states that they noticed the competitive Catherine scene, which is what lead them to developing online features for the remaster.
As of the end of 2017, development of the game is currently at 50% complete.
The Trivia for Tonight.....
Fans have begun a petition aimed at Atlus for a way to save Steve Delhomme, or, at the very least, add more Steve fanservice.[2]
External links
Videos
Gallery
Ad blocker interference detected!
Wikia is a free-to-use site that makes money from advertising. We have a modified experience for viewers using ad blockers

Wikia is not accessible if you've made further modifications. Remove the custom ad blocker rule(s) and the page will load as expected.