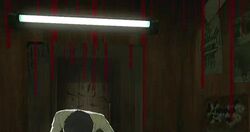 The following is a list of all the bosses that the player (and Vincent), will face on the final floor of every stage in the game, except for the first stage, Underground Cemetery.
Secret Boss Hint
During most of his time during the day, Vincent can wash his face in the bathroom of the Stray Sheep in order to see a quick flash of the next boss that will appear later that night during the nightmare.
Bosses
The Trivia For Tonight.....
The bosses all take the forms of Vincent's fears and doubts.
The Underground Cemetery is the only stage in the game to not have its own boss. However, the Fists of Grudge do make a brief appearance just as Vincent clears the stage.
Before going to face Thomas Mutton in The Empireo, if Vincent chooses to wash his face in the bathroom sink, he will not see a preview of the final boss.

It's possible that this is because Vincent already knew that he would be facing Mutton in the nightmare, or it could also be because the developers wanted to keep the second boss fight with Dumuzid a secret.

In the Japanese version all the bosses (except for Thomas Mutton) have demon voices.
Vincent is not the only one who has his own bosses. Every surviving sheep who makes it to the end of the nightly trial has his own boss. For example, Archie Wallace's boss is his sexually abusive mother. Orlando Haddick's boss is his ex-wife. In Catherine: The Mysterious Tale of Rapunzel, Freddie McGoohan's boss is his ex-girlfriend Sophie Mallow.
Gallery
Ad blocker interference detected!
Wikia is a free-to-use site that makes money from advertising. We have a modified experience for viewers using ad blockers

Wikia is not accessible if you've made further modifications. Remove the custom ad blocker rule(s) and the page will load as expected.